Manuka Honey
Cryo Body Care proudly supports Manuka Honey!
1. Manuka Honey that is of the highest quality and has passed the strict standards of MGS (Molan Gold Standard)!
2. Directly imported with the highest standard, super high potent manuka honey (MGS22) by air mail【with inspection certificate】!
3. Carefully stored in a refrigerator in the Omotesando store! You can purchase it at the store at any time!
About「MGS」

Dr. Peter Molan, the founder of manuka honey, is famous for creating "UMF", the first standard of manuka honey.
After that, Dr. Peter Molan launched a new standard called "MGS (Molan Gold Standard)" in 2009.
The "MGS" standard is even more precise than the "UMF" standard, and is a standard that further reflects his strong desire in saving people around the world with Manuka honey.
Therefore, the Manuka honey with the "MGS" mark proves that it is a high-quality product that has passed the strict inspections.
What is Manuka Honey?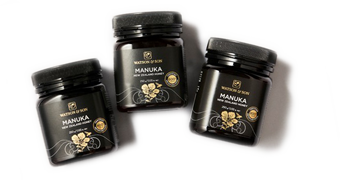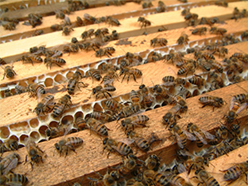 Manuka is a New Zealand native plant that can be found throughout New Zealand. From early spring to late summer, innumerable small white cute flowers bloom, and are rich in nectar. Indigenous Maori people have valued the leaf sap of Manuka (tea tree) as a medicine for healing diseases and wounds.
Manuka honey is produced by bees that pollinate the manuka flower. Manuka honey is a table honey that is indispensable on the honey-loving New Zealand dining table, characterized by its dark brown color, strong flavor, and rich sweetness.
Due to the antibacterial activity of Manuka honey, it is now a popular product, especially for women in their 30s to 60s who are health-conscious and are introduced by supermodels and professional athletes on TV, magazines, and blogs.
How to take it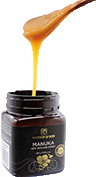 For health purposes, it is recommended to take 1 teaspoon on an empty stomach 1-3 times a day. To see a much faster result you may take it more than 3 times a day.
It is also recommended to use it on bread, in yogurt, tea and cheese.
*Please do not give this to infants under a year old.
Line Up
【Daily use and medium potency】
Manuka Honey MGO544 (equivalent to MGS15)

Recommended to those who are new to manuka honey and have a budget. Also, for those who are using it but would like to further enhance the effect. Perfect for daily health management.

【Most popular and high potency】
Manuka Honey MGO725 (equivalent to MGS18)

Our most popular manuka honey. Those who feel anxious about their physical condition, perfect for those who want a higher result than the moderately active manuka honey.

【Medical level / Premium】
Manuka Honey MGO913 (equivalent to MGS22)

This is the highest level of manuka honey used locally for medical purposes. Recommended for those who exercise regularly and have fatigue.
*Our company is registered as a regular member of the Japan-Australia-New Zealand Association (JANZ).
We strive to deliver high quality products at reasonable prices.