Cryotherapy
Extreme cooling space of -150℃.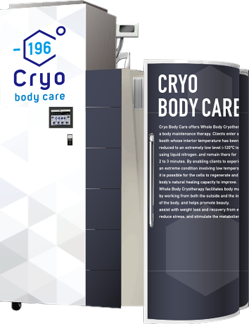 Whole Body Cryotherapy
In general, cryotherapy is known to target local areas such as cryosurgery and ice pack therapy (icing).
Among them, one that was developed relatively recently is the Whole Body Cryotherapy (WBC).
This treatment is based on cooling your body in an extremely low temperature environment(-150℃ to -120℃), using a coolant such as liquid nitrogen and your body reacting to such environment.
Efficient maintenance is possible with just a short cooling time of only 2 to 3 minutes.
Cryotherapy is also used in the sports and beauty fields.
Many top athletes from overseas are incorporating the whole body cooling method into their regular maintenance routines.
For example, it is used by many professional athletic teams such as basketball, baseball, rugby, and soccer. Professional golfers and fighters, and triathletes love the method as well.
In general, you can expect an immediate result by doing one treatment of cryotherapy after working out or running.
The world renowned soccer player, Cristiano Ronaldo, also loves cryotherapy and uses it to maintain a strong body.
As for beauty, you can expect to lose up to 800 kcal by cooling the whole body for 3 minutes. By cooling the whole body, you can activate mitochondria, which will improve your metabolism and assist the fat-burning process.
It is well known and frequently used overseas for aging care.
Precaution

We do not recommend treatments for those who have undergone hospitalization treatment or surgery due to a major illness or injury in the past, those who are currently in hospital, or those who have chronic illnesses. Also, minors will need parental consent.
Cryotherapy is highly recommended
for the following
Who aims to strengthen and improve muscle fatigue

Who are tired from working at home or self-isolation due to the covid-19 pandemic.

Who want to lose weight and are tired of their body line

Who are concerned about the condition of their skin
Those who aims to strengthen and improve muscle fatigue

Cryotherapy supports your body that has been overused in sports or training.
Cryotherapy is very effective for athletes and gym attendees.
Regular maintenance will help prevent injuries and improve performance

Those who are tired from working at home or self-restraint

Cryotherapy helps improve your blood circulation and will help in relieving improve fatigue.
You can even improve the quality of your sleep by balancing your autonomic nerves.
You can also expect great effects in reducing your stress levels.

Those who want to lose weight and are concerned about their body line

We strongly support those who "aspire to have a beautiful body line" and "want to work on their diet".
You can expect to lose up to 800 kcal by cooling the whole body in just 3 minutes!

Those who are concerned about the condition of their skin

By cooling the body rapidly in a low-temperature environment, it helps improve the conditions of your skin.
You can expect a strong aging-care results from the rapidly activated mitochondria, and it is extremely popular all over the world.
Price

All listed prices are including tax.
FLOW
Counseling

Please fill out the counseling sheet in the private treatment room and a person in charge will provide counseling.

Changing clothes

Please get undressed and have only your underwear on.
※Also, please change into the gown, gloves, socks, and special shoes that are provided in the changing room.
※Sports bra/bra with no metal parts is allowed during the treatment.

Getting in to the
Cryo machine

After getting in to the cryo machine, close the door, and take off the gown that you are wearing. (the staff will hold your gown during the session)

Starting the cooling session

Soak in the ice cold liquid nitrogen cooled to -150℃ to -120 ℃ for about 2 to 3 minutes. For the first time, it will take about 1 minute 30 seconds to 2 minutes 30 seconds.
* In the end, you will be asked to put on the gown before exiting the machine.

Getting dressed &
Going home

You will get dressed and be on your way.
※The whole process will take about 15 minutes.
Precautions about Cryotherapy
When using the Cryo machine, staff who are professionally skilled will be in charge of the treatments and will always be present.
Inside the Cryo machine, only underwear, gloves, socks, and special shoes should be worn, so about 90% of the whole body is covered with cooling gas.
Precautions for treatment

You can leave any face lotion and makeup on, but do not use liquid on your skin for 1 hour before the start of the treatment.
You cannot use the product while wearing sweaty or wet clothes. You may leave your hair down.
Also, if you have metal accessories on the areas that will be inside the machine they must be removed before entering.

Regarding the usage of children

Children under 20 years of age will need a parental consent form.
*Please consider it very carefully if you are High/Junior High School students, or younger.

※Those who fall under the following conditions will be denied treatments.

Those with coronary artery disease ・Those with hypertension (180 mmHg/100 mmHg or more) ・Thrombosis
Dementia ・Heart failure・Cold allergy
Severely ill patients ・Asthma ・Lung diseases
Physical dysfunction due to chronic cardiovascular disease ・Panic disorder ・Severe anemia
Those who are undergoing myocardial infarction and rehabilitation after infarction ・Those who are pregnant ・Those with tumor disease
People who have had a stroke ・People with a fever ・Intoxicated
People who have metal plates in their body – please notify us and we will see if it's safe to go ahead.

We do not recommend this treatment for those who have undergone hospitalization treatment or surgery due to a major illness or injury in the past, those who are going for frequent check ups, or those who have chronic illnesses.
Please contact us in advance.
FAQ
About Reservations・Payments

How should I make a reservation if it's my first time?

You may call us to make a reservation (03-5962-7615) .
If you make a reservation using the reservation request form, please enter the desired date and time and we will contact you to confirm the reservation.

It's hard for me to make a reservation in advance because I'm too busy. Can I still make a reservation on the same day?

Same day reservations are possible. Please call the clinic to check availability.
However, it is best to make a reservation in advance if possible.

Can I bring my child with me?

We apologize for the inconvenience, but we do not have any staff who be capable of watching your children. If there are 2 adults and you can watch the child in turns, please feel free to bring them.

What happens if I'm late to my appointment?

If you are going to be late for the appointment, please let us know by phone or email.
If you are late by more than 15 minutes, we may not be able to perform the treatment as scheduled depending on the reservation status of the day.

What should I do about cancellations?

You can cancel or change your reservation by phone. Please make sure to contact us by 20:00 the day before your reservation.

Do you accept credit card payments?

We accept VISA or Mastercard.

About Cryotherapy

Is it possible to have just 1 session or biweekly sessions instead of weekly?

Yes, that is possible.

Can I get treatments during pregnancy or breastfeeding?

Please refrain from doing so.

Why do I have to wear socks and gloves?

Your hands and feet can get cold easily, so we protect them by wearing the socks and gloves as a precaution.
Cold areas such as limbs can damage tissue if not protected correctly.
Tissues on these area (such as limbs) could be damaged if not protected properly.

Are there any precautions after cryotherapy?

After the cryotherapy, Be sure to drink water or tea frequently to be well hydrated. Also, it is best to avoid consuming any alcohol. In rare cases, cold urticaria and burns may occur.
If you feel any abnormality in your body, please contact us immediately.